I first read the blurb of this book from a link on twitter. I was immediately drawn to its contemporary feminist vibe. Asides from that it's a Nigerian Novel with an Igbo heroine; so as a bona fide Igbo babe, I just couldn't pass this up.
Category: Literary Fiction
Publisher: The Indigo Press
Year of Publication: June 2020
Pages: 256
Blurb:
Ogadinma Or, Everything Will Be All Right, tells the story of the naïve and trusting teenager Ogadinma as she battles against Nigeria's societal expectations in the 1980s.
After a rape and unwanted pregnancy leave her exiled from her family in Kano, thwarting her plans to go to university, she is sent to her aunt's in Lagos and pressured into a marriage with an older man. When their whirlwind romance descends into abuse and indignity, Ogadinma is forced to channel her independence and resourcefulness to escape a fate that appears all but inevitable.
WHY YOU SHOULD READ OGADINMA.
If I could describe this book in one word, it would be easy-breezy. I finished it in one day; lapping up the pages because I just couldn't get enough. There is something so familiar about Ukamaka Olisakwe's writing and storytelling that is enticing and addictive to a reader. As an Igbo girl, it was impossible not to relate to the not so subtle patriarchal undertones in Igbo Culture portrayed in this book. And as such, this book had me in my feelings right from the first chapter. Ogadinma suffers a great deal in this story and for one so young, it is impossible not to empathize with her.
At some point, I just wanted to hug her and say sis you don't have to put up with this shit but alas all I could do is continue reading and hope everything would be alright in the end. I'm not going to drop any spoilers even if it's killing me not to do so. However, mark your calendars for the 18th of June 2020 cause Ogadinma would be available from then.
I must commend the author for being able to create a book that is so easy to read without undermining the piercing issues that are at play in Ogadinma's life. I also hope that a lot of book clubs pick this up because this book would most definitely enrage you, break your heart and also encourage you to speak up (in other words book club meetings are going to be lit). If you enjoy books like the Joys of Motherhood by Buchi Emecheta and Everything Good Will come by Sefi Atta, then this is the book for you.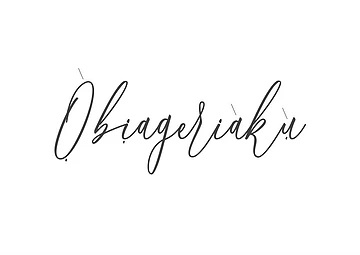 ABOUT THE AUTHOR
Ukamaka Olisakwe is a Nigerian novelist, short story writer, and screenwriter. In 2014 she was chosen as one of Sub-Saharan Africa's most promising writers under the age of 40. She was born in Kano, Nigeria, and in 2016, was a resident at the University of Iowa's International Writing Program.
Her writing has appeared in Catapult, the New York Times and The Rumpus. She wrote the screenplay for The Calabash, a Nigerian television series that premiered in 2015 on Africa Magic Showcase.
The Advanced Reader's Copy was sent to me by the publisher in exchange for an honest review.